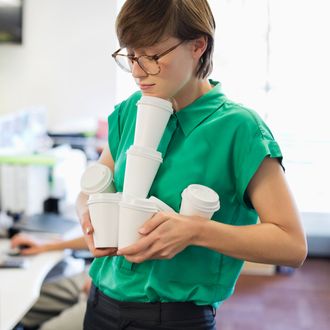 Photo: Paul Bradbury/Caiaimage/Getty Images
Capital New York asked City Hall about the unpaid interns, around 150 of them, working for a mayor who has made pushing for a higher minimum wage one of the shiniest parts of his platform — although his relationship with the state legislature might make it difficult for anything to happen on that front, as this week showed. A spokesperson for Bill de Blasio responded, "The Mayor's Office internship program is about education. We enforce strict rules to make sure our interns are tasked only with work that enriches their learning experience and bolsters their knowledge of local government." 
One former intern learned that working in local government means sorting "mail and put[ting] events on people's calendars," which may be very accurate, but seems like an ineffective way to convince people to become a civil servant. 
A 2012 study from the National Association of Colleges and Employers found that unpaid interns aren't only not getting paid for their work, they are also far less likely to receive job offers after they graduate.
All interns at City Hall are unpaid — even if your name happens to Chiara de Blasio, Dante de Blasio, or Emma Bloomberg — and have been for years. The prestige of the position and the impossibility of working in New York City without pay for most young people means that former City Hall interns tend to be those who don't complain about working for free; a New York Times analysis of City Hall interns in 2010 found that most had very familiar last names. 
De Blasio did make a change last year that allows unpaid interns to sue employers for discrimination or harassment, even though they are not considered employees. 
The mayor isn't the only politician pushing for paid leave and a higher minimum wage facing calls to stop hiring unpaid interns. Carolyn Osorio, a former unpaid intern for Hillary Clinton's 2008 presidential campaign, wrote an op-ed in USA Today saying that "finding out that Hillary perpetuates the exploitation known as unpaid internships was like discovering that Santa wasn't real." A campaign aide told The Hill that its unpaid "fellows" program was very similar to the one that the Obama campaign had used, as if the longtime existence of a practice somehow validated it. "Many successful fellows from a similar program during the Obama campaign now work with us on this campaign and we're sure the same will be true with many from this group." 
In a speech last year, Clinton said, "Businesses have taken advantage of unpaid internships to an extent that it is blocking the opportunities for young people to move on into paid employment. More businesses need to move their so-called interns to employees."