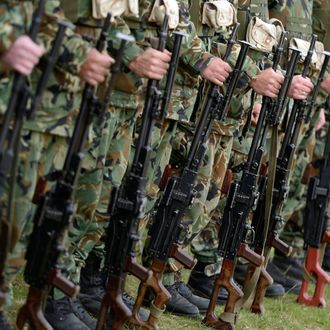 Photo: Vassil Donev/Corbis
The multistate training operation Jade Helm 15 will begin next month, and plenty of Texans still seem to think that this is all an elaborate ruse and the federal government is about to take over Texas — a state that is already part of a larger country that the federal government oversees. It wasn't clear how many people thought that the U.S. military was building tunnels under abandoned Walmarts FEMA camps. Thanks to a new University of Texas/Texas Tribune poll, we now know that the answer is: "More than a few!"
Forty-four percent of Texas voters — including 31 percent of Democrats — think that it is very or somewhat likely that the federal government is sending troops to Texas and other states so it can impose martial law; 43 percent think it is likely that the federal government just wants to take their guns. 
Strangely enough, slightly fewer Texan voters thought that it was a good idea that Governor Greg Abbott sent the Texas State Guard to monitor the exercises, saying that it is "important that Texans know their safety, constitutional rights, private property rights, and civil liberties will not be infringed." Thirty-nine percent of registered voters — and 85 percent of tea party Republicans — supported this move, while 32 percent had no opinion whatsoever. Although the difference between the number of people who think the government is coming to turn Texas into a socialist wasteland and those who think it is a good idea to monitor the military is within the margin of error, there's always the possibility that a very small number of Texans think the government is coming to impose martial law and are ready to submit and declare allegiance, federalism be damned. 
If these people exist, we assume they might be friends with the people who sent aluminum-foil hat kits to Greg Abbott's office instead of just filing a letter to complain about the Texas State Guard being deployed.