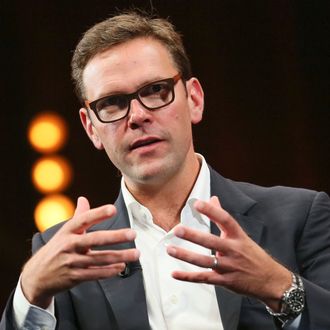 Photo: Tony Barson/FilmMagic
This morning's news that Rupert Murdoch is tapping his younger son James to become CEO of 21st Century Fox has led many to speculate that the announcement resolves the company's decades-long succession drama. While James's promotion is a big deal — not least because it means he survived the London phone-hacking scandal — it is not a definitive coronation by any means. That's the assessment that was echoed in conversations this morning with people close to the Murdochs.
The truth is, the succession question is far from being answered. For one thing, Rupert isn't going anywhere. "This is a title change, it is not a role change for Rupert," a person with knowledge of the decision said. "Rupert will still run the place no matter what the structure," said another. As executive chairman of 21st Century Fox and News Corp., he will still sit atop both of his media companies. By naming the 42-year-old James CEO of 21st Century Fox, Rupert is putting him in charge of his entertainment and television operations, a role occupied by outgoing COO Chase Carey. "James is a hands-on operator," a person close to the company says.
Equally significant is the news that Rupert is elevating his oldest son Lachlan as well. As part of the reorganization, Rupert is naming Lachlan, 43, co-chairman of 21st Century Fox. (Last year, Lachlan was named co-chairman of News Corp., the publishing arm.) "Consider this the ascension of both sons, and not James," a person close to Rupert told me. How this will all work is anyone's guess. One Murdoch intimate described the power-sharing arrangement as a "partnership." But another said, "Lachlan is the first among equals." 
Rupert long ago established a family dynamic where the children fought for his affections. As the brothers ascended the ranks of his empire, they remained intensely competitive with each other. Once, years ago, when James read in a newspaper that Lachlan was heir apparent, he crumpled it up and screamed, "It's not fucking true!" At the height of the London phone-hacking scandal, Rupert notably turned to Lachlan for counsel, a move that left James wounded. And now the patriarch is elevating both sons. What it means is that, far from ending the competition, Rupert is stoking it.