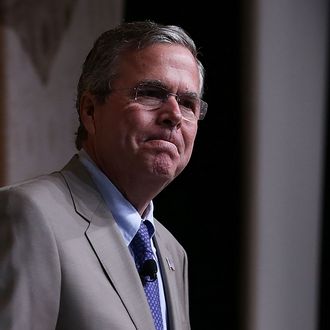 Photo: Alex Wong/Getty Images/2015 Getty Images
The Washington Post has a story today about 2016 presidential candidate Jeb Bush's unfortunate habit of getting involved in business deals destined to crumble and make him look bad. The problem is widespread enough that his career is littered with a graveyard of hilariously halfhearted explanations for his mistakes from friends, staffers, and Bush himself. 
In 1998 — shortly before he became governor of Florida, Bush told the St. Petersburg Times, according to the Post, "I'm 45 years old. I have to have better radar." Bush's running mate in his failed gubernatorial bid in 1994, Tom Feeney, argued that the problem wasn't Bush, only the people he did business with. "The only documented allegations come down to the fact that he did business with people that later turned out to be deadbeats and crooks."
In the '80s, Bush helped the health-care company IMC with federal regulators. The company was later shut down after $200 million in federal funds went missing. IMC's CEO, Miguel Recarey Jr., is still hiding in Spain. When the Miami Herald asked Bush about the incident years later, Bush said, "At the time, I didn't feel I was doing business with a crook. Unfortunately, I didn't give it a whole lot of thought."
One of Bush's real-estate friends gave the Post the most amusing spin for Bush's nonexistent business bullshit detector, saying that the presidential candidate has a "record for having only a few clients who ultimately turned out to be less than truthful is remarkable, and that record would compare favorably with any firm in this business, either in Miami or another city." We should be impressed that a presidential candidate didn't get involved in more shady dealings — especially in Florida!
New York Magazine's Jennifer Senior wrote a story about Jeb Bush earlier this month that explained more of the context for Bush's history in business — one of his first bad ventures involved helping a company named MWI that was later sued by the Justice Department for "giving a Nigerian middleman $25 million to bribe officials in order to get government loans"  — and how he continued to make bad mistakes after his gubernatorial career ended. 
Since Bush's business dealings are "pure Florida" and "hard to distinguish from the wild subplots of a Hiaasen novel," Senior talked to Carl Hiaasen about why it was so easy for Bush to get in trouble. 
"Well, yeah," says Hiaasen when I ask him about it. "This is a place where Bernie Madoff did most of his damage. The state is a magnet for scammers and big talkers who can't back it up."
Bush's bad deals aren't only from decades past. In 2007, Bush got involved in what Senior calls "his most eyebrow-raising venture": serving "on the board of [InnoVida,] a company that bled the Haitian government — and big charities that served to help it — at just the moment its people, homeless and starving, needed it most." 
Senior adds that Bush may have been especially vulnerable to Florida's charms. 
Florida's culture of get-rich-quickism probably held out a particular appeal to Jeb. It's part of the Bush-family tradition to light out for the territory, reinvent oneself, and make one's fortune before entering public service. Making money always comes first.  … Jeb, of all the Bushes, probably had the fewest assets before entering public office, and when he left Tallahassee, he was worth $1.3 million, which for the Bushes isn't very much. His work space at the Biltmore is surprisingly unfussy (until January, he worked in a suite that didn't even have its own bathroom). But the real-estate market went bananas during his time as governor. It must have whetted his appetite for a finer life. When I ask Howard Leach, one of Jeb's most loyal fund-raisers, what the governor has been doing for the last eight years, he answers very matter-of-factly: "He's been trying to rebuild his net worth." And so he's been sitting on corporate boards, doing real-estate deals with his son, hitting the speaking circuit.
The New York Times reported last year that Bush has given more than 100 speeches since 2007, making about $50,000 per address. The Post unearthed another Bush quote about business from 1994, where he told the Miami Herald "getting 'burned a couple of times' made him 'better at deciphering people's motives.'" Over the past 20 years, it seems clear that "better" did not mean "good."
However, as Senior points out, at least one other 2016 presidential candidate has failed to win the Florida political missteps version of "Where's Waldo" — although not quite as badly as Bush.
"Here's a classic example," says Hiaasen. "If you go back, there's a picture somewhere of Hillary Clinton posing with a guy who she was told was a legitimate man in the Florida Keys — what's his name? He lived down the street from me." He thinks for a second, fails to summon it. "Anyway, he was a big-assed dope smuggler. But he gave a lot of money, so he shows up at a reception in Miami, and of course he's standing close to her, so she poses for a picture, because that's what politicians do. God, what is his name?" Another pause. "Cabrera!" Yes. Jorge Cabrera, according to Google. "Anyway, I don't know if he was bringing in coke" — 6,000 pounds of it, says the New York Times — "but the thing is, lots of people in the Keys knew he was in the business, because that was like a second industry down here. But how would Hillary have known?"

In the picture, she's smiling with him in front of a Christmas tree.