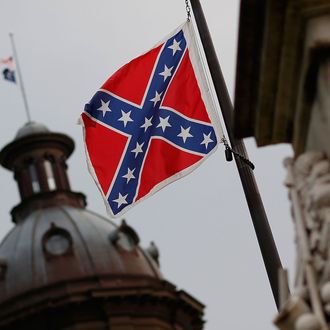 Photo: Win McNamee/Getty Images
Elected officials defending the battle flag have become an increasingly endangered species after South Carolina governor Nikki Haley said she thought the Confederate flag should be removed from the state capitol grounds on Monday. 
Most 2016 presidential hopefuls have said something that roughly translates to "the Confederate flag belongs in a museum" — one notable exception being Jim Webb.
The former Virginia senator, who said he would make a decision about running by the end of the month, avoided answering reporters' questions about the flag for a few days. He finally released a summation of his thoughts on Facebook today, in which he stakes out his ground in the murky mire between those who still support the flag and those who realize its tangled symbolism. 
Webb's argument can be summed up as, "Both sides have points — let's hold hands." Below his statement, many Facebook commenters voiced complaints about its sentiments. One person wrote, "You still have my vote, but this was not a good statement."
Webb's chances of winning a Democratic primary were already slim — a poll this week has him at 4 percent — and deciding that an answer besides "Yes" or "No" exists for the question "Should the Confederate flag fly outside state houses?" will not endear him to voters who will be more liberal than general election voters. 
Webb has long argued that the Democratic Party needs to do a better job winning the support of working-class white voters in the South who have mostly drifted to the Republican Party. He told reporters last December, "We're in this regrettable situation where the parties are starting to fall apart based on race, and the very people who would have a natural affinity for what the Democratic Party used to offer feel alienated. They feel the Democratic Party doesn't want them."
Remaining conflicted about the South's past appears to be one way Webb hopes to win them back next year. 
Twenty-five years ago, Webb gave a speech at the Confederate memorial he mentioned in his statement today. "Four years and six hundred thousand dead men later the twin issues of sovereignty and slavery were resolved," he said. "A hundred years after that, the bitterness had vented itself to the point that we can fairly say the emotional scars have healed" — a statement that can be easily disproved by the debate taking place this week, and the decades of racism that preceded it. 
In 2008, when Webb was floated as a possible vice-presidential pick, Politico noted that "Webb's past writings and comments on the Confederacy could dampen enthusiasm for the Democratic ticket, should he appear on it."
Back in Virginia, where Webb once served, Governor Terry McAuliffe decided to phase out license plates with Confederate flags on them. "Although the battle flag is not flown here on Capitol Square, it has been the subject of considerable controversy, and it divides many of our people," McAuliffe said. "Even its display on state-issued license tags is, in my view, unnecessarily divisive and hurtful to too many of our people."