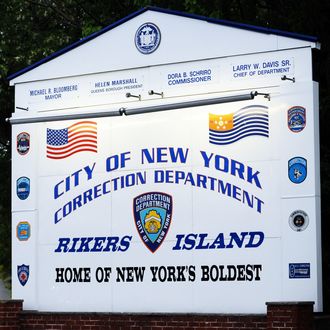 Photo: Jewel Samad/AFP/Getty Images
Kalief Browder, the 22-year-old Bronx resident who was incarcerated as a teenager for years at Rikers without being convicted of a crime, was found dead by suicide in his mother's home this weekend. 
Browder was the subject of a 2014 New Yorker story that chronicled the violence and mistreatment he endured at Rikers — including two years in solitary confinement — after being accused of stealing a backpack at age 16. Browder maintained that he never stole anything, but he was still held for three years without a trial and subjected to brutal beatings by both guards and other inmates, some of which were captured in surveillance footage later published by The New Yorker.
After being released from Rikers without ever being convicted of a crime, Browder struggled to adjust to life on the outside, having spent most of the 17 months prior to his release in solitary confinement. He was in and out of psych hospitals and reportedly tried to commit suicide both while at Rikers and after being released. Over the weekend, Browder hung himself with a cord from a hole in the wall where an air conditioner had been.
"I think what caused the suicide was his incarceration and those hundreds and hundreds of nights in solitary confinement, where there were mice crawling up his sheets in that little cell," Browder's lawyer, Paul V. Prestia, told the L.A. Times on Sunday. "Being starved, and not being taken to the shower for two weeks at a time … those were direct contributing factors … That was the pain and sadness that he had to deal with every day, and I think it was too much for him."
Browder expressed this pain and sadness in the 2014 New Yorker story.
"I'm not all right," he said. "I'm messed up. I know that I might see some money from this case, but that's not going to help me mentally. I'm mentally scarred right now. That's how I feel. Because there are certain things that changed about me and they might not go back."