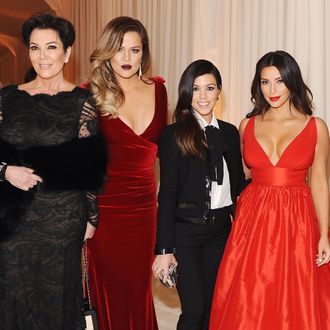 Photo: Stefanie Keenan/Getty Images
That the Kardashians are a cultural phenomenon is no longer news to even the most diehard "she's only famous for her sex tape!" stalwarts, but sometimes their influence crops up in unexpected places — like the New York Times crossword puzzle, for instance.
Last year, Daily Intelligencer noticed that rap references had increasingly appeared in the notoriously difficult puzzles. Crossword editor Will Shortz told us that as the average age of the crossword completer has dropped 15 years to around 40, the puzzle-makers have amped up their pop-culture references. That apparently means including the Kardashians, Jenners, and various related characters; references to America's first family have appeared as either New York Times crossword puzzle clues or answers 12 times since 2011.
Kardashian references planted over the last four years also provide a narrative arc, often pointing to whichever member of the family was embroiled in whichever drama at the time. For instance: Lamar Odom appears as an answer multiple times throughout he and Khloe's tumultuous relationship, and Kris Humphries, the NBA player Kim was notoriously married to for just 72 days, was an answer just a few months after their divorce was finalized. The most recent clue, which appeared in Sunday's crossword, names the "Longtime reality TV family on the E! channel" as the JENNERS, which perhaps speaks to the growing influence of Caitlyn, Kendall, and Kylie. Still, not many families can say their personal histories have been immortalized in the Times crossword.
Clue: Bruce who won the 1976 Olympic decathlon 
Answer: JENNER
Clue: Kardashian matriarch
Answer: KRIS 
Clue: Kardashian spouse Lamar ____
Answer: ODOM 
Clue: One of the Kardashians
Answer: KIM 
Clue: Humphries of the NBA
Answer: KRIS 
Clue: Lamar who married a Kardashian
Answer: ODOM 
Clue: Khloe Kardashian's married name
Answer: ODOM 
Clue: One of the Kardashians
Answer: KHLOE 
Clue: Jenner of reality TV
Answer: KRIS 
Clue: Celebrity couple portmonteau
Answer: KIMYE 
Clue: Mother of Kourtney, Kim and Khloe
Answer: KRIS 
Clue: Longtime reality TV family on the E! channel
Answer: JENNERS 
If the Times wants to continue to court young fans using Kardashian references, they might want to start working in Kendall, Kylie, and even North.