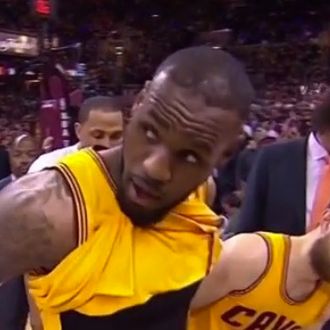 Photo: Screengrab from ABC.
It's been a rough night for LeBron James. In the second quarter of Game 4 of the NBA Finals between the Cleveland Cavaliers and the Golden State Warriors, James was fouled by Andrew Bogut and went tumbling into a cameraman. He suffered a bloody gash on his head but kept playing, with officials dismissing concerns about why he wasn't evaluated for a possible concussion more thoroughly. Judging from the online reaction, though, the far bigger concern is that we might have seen his penis earlier in the evening.
During the pregame broadcast, ABC's camera focused on James tucking in his shirt, and everyone at home might have seen his junk for a split second. Here's the potentially NSFW video:
We get the concern. After completing years of intensive therapy to get over Janet Jackson's Super Bowl "wardrobe malfunction," this is the last thing the youth of America need.