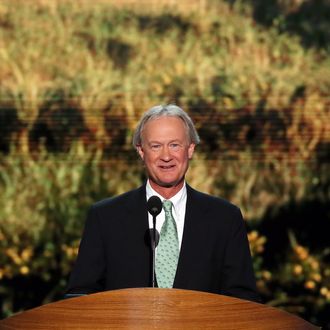 Rhode Island Gov. Lincoln Chafee speaks during day one of the 2012 Democratic National Convention.
Photo: Alex Wong/2012 Getty Images
Former Rhode Island governor Lincoln Chafee entered the 2016 presidential race today. He made his entry into the Democratic primary official during a foreign policy speech at George Mason University. Chafee made it clear in his announcement that his status as the only GOP senator (before becoming a Democrat in 2013, Chafee had been a Republican and an independent) to vote against the war in Iraq would be a focus of his unexpected campaign. Hillary Clinton, who currently enjoys more than 60 percent of the Democratic Party's support, voted for the war during her time in the Senate. 
Chafee also said on Wednesday that Edward Snowden should be allowed to return to the United States, that drone strikes "are not working," and that the country should think about switching to the metric system. 
On Twitter, people mostly joked about how unknown Chafee is …
… or how confused they were about what party Chafee was affiliated with at that point …
… how few people were in the room when he announced his presidential bid — especially if you don't count journalists who were taking photos of the mostly empty auditorium …
… and making sure that everyone heard that a presidential candidate is running on the metric system.
Earlier in the day, his wife's Facebook feed managed to steal a bit of Chafee's thunder; as well as remind everyone how remote his chances of winning — or even coming in second place — in the primary seem at this point. 
You can read Chafee's announcement speech here.