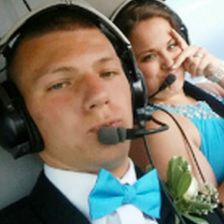 Dear other teens: Your Escalade limo is cute and all, but this Long Island teen just made it kind of look like garbage.
Seventeen-year-old Long Islander Nick D'Amato flew his date Danielle to prom in a helicopter on Tuesday, landing it perfectly on the school's football field. 
"I just saw a bunch of people running up to the helicopter and they were asking to take pictures," he told CBS New York. "I got out, got Danielle out, hugged her. It was just amazing."
Congrats, kid! It's all downhill from here.