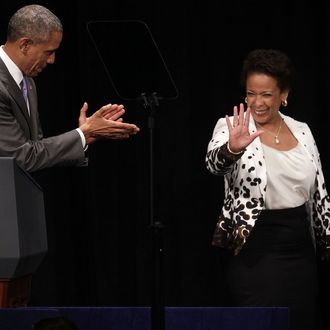 Photo: Alex Wong/Getty Images
Loretta Lynch was formally sworn in as attorney general today, after a busy two months involving FIFA, civil rights in Baltimore, and several other high-profile issues. Lynch was sworn in by Supreme Court Justice Sonia Sotomayor — on a bible owned by Frederick Douglass. When Lynch mentioned this to President Obama on the stage of the Warner Theater in Washington, with friends and family in the audience, he replied, "That's pretty cool."
During his remarks at the ceremony, Obama gave a shout-out to Lynch's parents.
They are her biggest cheerleaders. Apparently, when she applied to work at the U.S. Attorney's office and a FBI agent went to their house to conduct a routine background check, her parents pulled out a bunch of scrapbooks of Loretta's accomplishments [and] made the agents look through them. I'm sure Loretta was mortified. "And here in third grade, she got the prize. And here's one of her old poems." I can just picture the FBI agent sitting there, "Yes, ma'am." The agent later told Loretta that she probably wasn't a threat to America because if she were, "her parents would have documented it in some way."
Lynch also became the first sitting U.S. attorney general to use Twitter on Wednesday. She already has more than 12,000 followers.