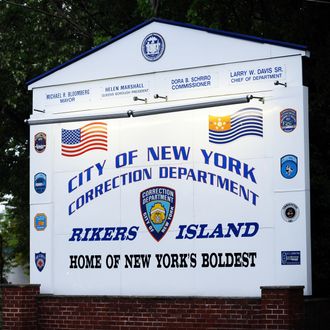 Photo: Jewel Samad/AFP/Getty Images
Carlos Montero was sent to Rikers Island when he was 17. Seven years later, he is still waiting for a trial. Montero allegedly took part in a robbery in 2008 that left a man dead and another injured; Montero denies that he was even there.
New York has a law that is supposed to make sure prisoners get a trial within 180 days — but murder trials are exempt. 
Montero has, unsuccessfully, tried to uncouple his trial from those of his alleged accomplices. "I'm depressed in here. I just want to go home,'' he told the New York Post, which first reported on Montero's case. The Post asked him about Kalief Browder, who committed suicide earlier this month. Browder, sent to Rikers as a teenager, waited three years for a trial on a crime he was eventually cleared of. "I don't think about killing myself because I love myself," Montero said. "I still think I can get justice."
The New York Times reported earlier this year that more than 400 prisoners have been waiting for at least two years at Rikers without yet being convicted of a crime.