First Lady Michelle Obama, Malia and Sasha Obama, and Obama's mother, Marian Robinson, are all in London today to see the sights — and promote the new Let Girls Learn initiative.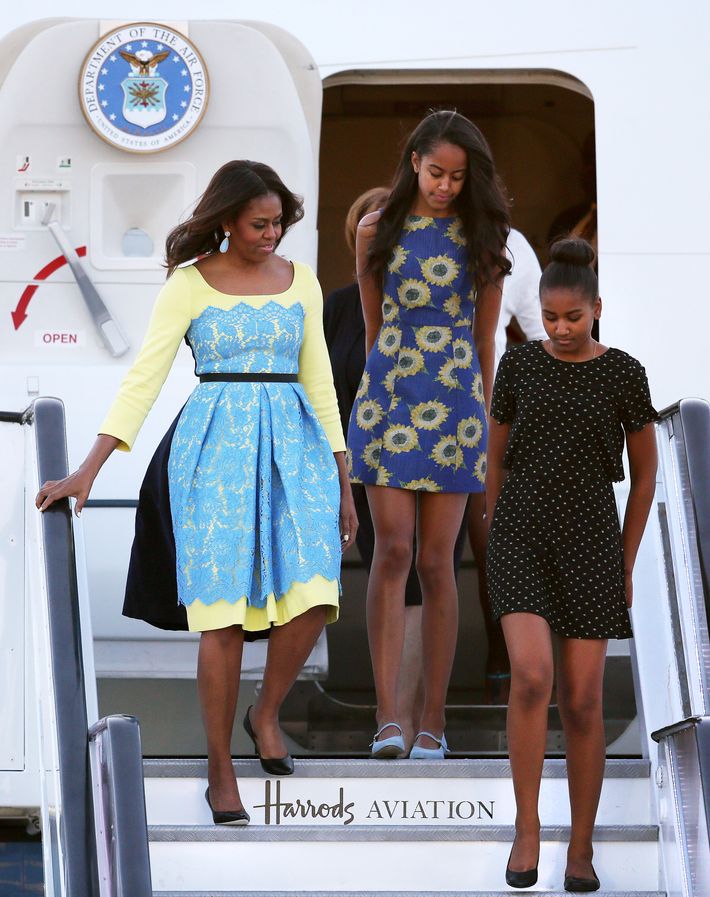 First stop was Kensington Palace, where the whole family had tea with Prince Harry. Obama and the prince, who has served in the British military, primarily discussed how to help veterans, and Malia and Sasha perhaps reconsidered the coolness of their parents. The Obamas will fly to Italy on Wednesday to meet with U.S. military families and attend a conference about healthy eating and the future of food. They will not have tea with any princes there. 
Obama later gave a speech at the Mulberry School for Girls. Low-income Bangladeshi students make up much of the student body. 
"The world needs more girls like you growing up to lead our parliaments and our board rooms and our courtrooms and our universities," she told them. "We need you." The U.S. and Britain are devoting about $200 million to boost the education of young women in countries that need it — like those hit by the Ebola crisis and the Democratic Republic of Congo.
The school was insanely excited to welcome the First Lady. The school's principal told The Guardian, "The first lady is one of the greatest, most inspiring women of our time and her visit is an honor for us."
Obama is scheduled to meet with Prime Minister David Cameron on Downing Street later today to discuss the initiative, a meeting that will probably receive far less attention because it doesn't not include the words Harry or tea.