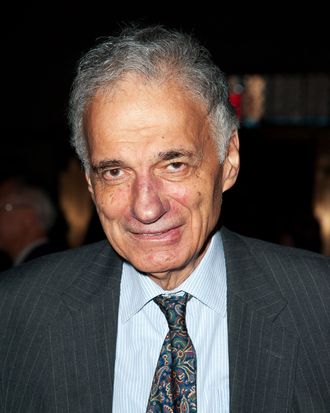 Photo: Dave Kotinsky/Getty Images
Ralph Nader has been making plans for an American Museum of Tort Law for 17 years, and it is supposed to open in his hometown of Winsted, Connecticut, in the upcoming months.
Locals are welcoming it with complete apathy, according to The Wall Street Journal. "Oh, big deal, Ralph Nader," said town historian Milly Hudak. "I don't think people are going to get excited. How many people, if you said to them, 'There's going to be a tort museum,' they'll say, 'What's a tort?'" ("A legal term for a wrongful act that can be the basis of a civil lawsuit.")
Tom Stebbins at the Lawsuit Reform Alliance of New York said, "You probably couldn't get school kids there because they'd sue the bus driver on the way." Nader thinks children should be thrilled for the opportunity to learn about jury duty. "Once they see it," Nader says of the museum, "it will be exciting." 
The museum has been in the works for so long that the New York Times published a nearly identical story wondering if anyone would go to a tort law museum in 1998. Flammable pajamas and the Love Canal were listed as some of the still-imaginary museum's top draws, and fears about the potential legal liabilities of a museum about legal liabilities were considered.
>
The museum will not contain "a clock that marks time by having a life-size Pinto erupt in flames every hour, on the hour, 'like the clocks in Germany.'"