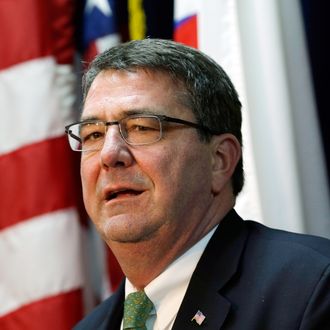 Photo: Lee Jin-man/Corbis
Defense Secretary Ashton Carter announced at the Pentagon's Gay, Lesbian, Bisexual and Transgender Pride event on Tuesday that gay and lesbian troops will now be protected from employment discrimination. The Pentagon's equal opportunity policy will now cover LGBT troops, ensuring that "gay and lesbian troops' complaints about discrimination based on sexual orientation will be investigated by military officials," according to USA Today.
"Discrimination of any kind has no place in America's armed forces," Carter said at the event.
Despite the groundswell of support for transgender rights, troops who identify as transgender can still legally be discharged based on their gender identity, though a senior official's approval is required.