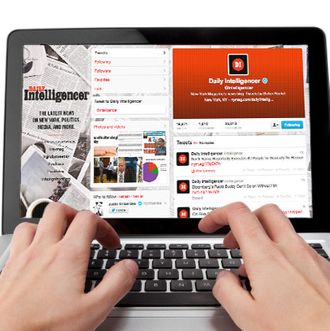 Welcome back to the New York Magazine Competition. On alternate Mondays, we lay out a challenge and offer a sample responses. Enter in the comments section, or on Twitter with the hashtag we've provided, and the editors will select a winner. Criteria are highly subjective, but heavily retweeted and favorited posts will have an advantage. The prize is a year's subscription to New York in print or a two-year subscription to the iPad edition (winner's choice). Full rules are here.
COMPETITION NO. 50: "ADD AN L." Please offer a familiar title altered by the addition of a single letter L. For example:
YOU AND MEL AND A DOG NAMED BOO
BREAKING BALD
THE AUTOBIOGRAPHY OF MALCOLM XL
THE OX-BLOW INCIDENT
Enter on Twitter with the hashtag #addanL, or in the comments thread below, by June 24.
RESULTS OF COMPETITION NO. 49: "COMMENCEMENT SPEECHES," in which you were asked for a graduation-day speech for the ages. 
HONORABLE MENTION TO:
"Half of you will die before you leave campus this afternoon."   —George R. R. Martin
—RegisMayhem
"Briefs."  —Caitlyn Jenner
—rmtmiller
"Many doors are open to you. Please use all of them."   —MTA chairman Thomas Prendergast
—Hal10034
" 💨🏃📦 "  —Marcel Marceau
—gianna13
"Put the pedal to the metal, and don't look back."  —Suge Knight
—WASPyJewess
When I think back to all the crap I learned in high school …" —Paul Simon
—@SteveBass2
"To thine own self be true."  —Ayn Rand
—BobKopac
"Trust me, it's not worth it. Just be a doctor or something, I don't know."   —President Obama
—pampl
"Class of 2015 … standing before you today … I am reminded of the time I was awarded the Congressional Medal of Honor."  —Brian Williams 
—RustyShackelford
AND THE WINNER IS:
"Let me begin by saying that each of you has just wasted four years of your life."   —Peter Thiel
—NYCTarHeel