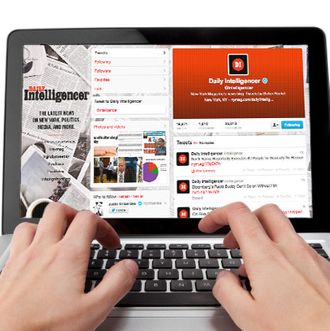 Welcome back to the New York Magazine Competition. On alternate Mondays, we lay out a challenge and offer a sample responses. Enter in the comments section, or on Twitter with the hashtag we've provided, and the editors will select a winner. Criteria are highly subjective, but heavily retweeted and favorited posts will have an advantage. The prize is a year's subscription to New York in print or a two-year subscription to the iPad edition (winner's choice). Full rules are here.
COMPETITION NO. 51: "SCALIA'S OTHER JOB." Please suggest a bit of commentary that might have been written by the Honorable Antonin Scalia had he chosen another profession. For example:
CABBIE: "No way. I'm not taking anything named for FDR."

CARDIOLOGIST: "A 'pacemaker,' until comparatively recently, referred to a method of regulating the speed of one's step. So I have decided that, instead of implanting this device in the patient's chest, we will put it in his foot."


NURSERY-SCHOOL TEACHER: "This snack plan is pure applesauce."

KAYAKER: "You all made a terrible decision back there, and if I have anything to say about it, we will neither row nor wade."

VETERINARIAN: "It's nothing to worry about. A little frothing at the mouth is perfectly normal."
Enter on Twitter with the hashtag #scaliasotherjob, or in the comments thread below, by July 8.
RESULTS OF COMPETITION NO. 50: "ADD AN L," in which you were asked for a familiar title, altered by the addition of a single L. 
HONORABLE MENTION TO:
LOL' Man River
—ragman1940 
Tinkler, Tailor, Soldier, Spy
—@Nereid1212 
Drivel, He Said
—HudsonRiver 
Ode to Billy Joel
—BENLINUS99 
Tiltanic
—@BoberPeter 
Dalai Llama
—rmtmiller
The Lord of the Rings: The Two Towlers
—@MorganCEM
Normal Rae
—Ninasphere
How I Melt Your Mother
—alanmarkgreenspan
Chris Rock: Bring the Palin
—BobKopac
Angela's Lashes
—gianna13
Slay Anything
—rgqueen
Howl to Win Friends and Influence People
—onvacation
All About Evel
—@lovehowto
Condi Rice: My Years with Blush
—j_son
Love With A Proper Strangler
—RustyShackelford
Letting Anal Go
—rgqueen
L'Orange is the New Black
—Gabegirl
Black in Black
—Wallfly
The Cloven
—@KevRant
AND THE WINNER IS:
The Human Stalin
—Hal10034