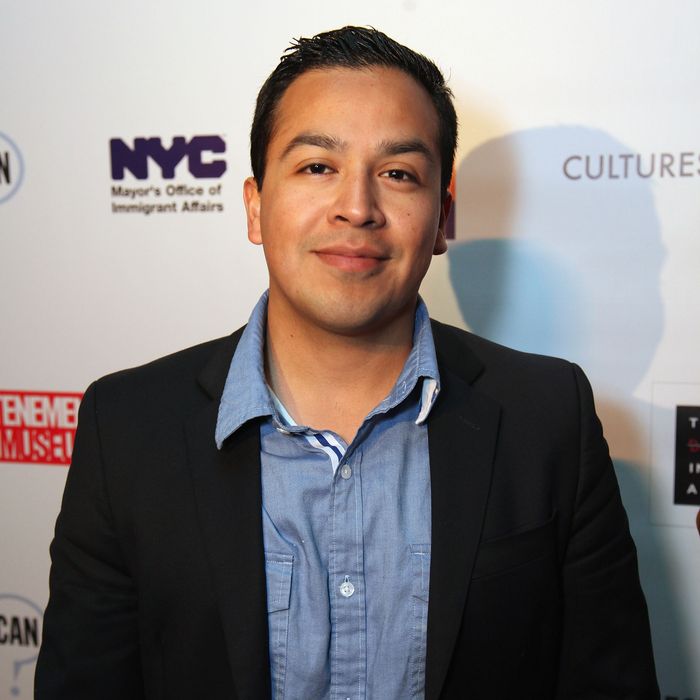 Cesar Vargas at an #UndocumentedNYC event in 2013.
Photo: Donald Bowers/2013 Getty Images
After a nearly three-year wait, a five-judge panel in New York ruled this week that César Vargas — a native of Mexico and longtime New Yorker — can be admitted to practice law in the state he's called home since he was 5, even though he remains an undocumented immigrant. The unanimous decision can be read as a huge win for DREAMers, who have faced some tough opposition in Congress and the courts — just last week, a federal appeals court in Texas refused to block a February ruling that effectively halted President Obama's plan to ease restrictions on millions of undocumented immigrants living in the U.S.
But Vargas's case was chiefly a state matter. And boiled down to its basics, the judges faced a rather simple question: Does the fact of Vargas's undocumented status reflect in any way on his "character and fitness" to practice law in New York? The court ruled conclusively: 
We find that the undocumented status of an individual applicant does not, alone, suggest that the applicant is not possessed of the qualities that enable attorneys to vigorously defend their client's interests within the bounds of the law, nor does it suggest that the applicant cannot protect, as an officer of the court, the rule of law and the administration of justice.
The judges reached this conclusion rather easily. They deferred to the bar committee's "stellar" rating of Vargas, determined that he met all the statutory requirements to become an attorney, and found "no rational basis" that his immigration status "reflects adversely on his competence to practice law in the State of New York."
But the court didn't stop there. It then tackled the tricky question of whether federal immigration law, which generally prevents states from granting professional licenses to "aliens," stood as a meaningful obstacle for Vargas to be admitted to the bar. Here's where the decision got interesting, because the court engaged in a lengthy constitutional analysis that pitted American immigration law and New York's "sovereignty" to lets its judiciary regulate lawyers. And yes, New York won: The court said federal law "unconstitutionally infringes on the sovereign authority of the state to divide power among its three coequal branches of government."
That language, premised on the Tenth Amendment, will give legal scholars something to talk about. In practice, though, Vargas helped set a new precedent that opens the door for other undocumented immigrants to practice law in his home state. That's sure to make a few heads explode, but rest assured that New York is not the first state to do this. Florida and California beat it to the punch.
Read symbolically, Vargas's victory is bit of a shot in the arm to other young immigrants frustrated at the massive political failure in Washington that has left immigration reform stalled for a decade. Because, in a way, the ruling represented a charitable reading of Deferred Action for Childhood Arrivals, or DACA — Obama's stopgap policy that allowed Vargas to apply for a reprieve from deportation. It is, of course, now in legal limbo thanks to Texas and other states suing the Obama administration over how it "harms" them.
In this regard, the New York court read the policy in ways the Texas judge who blocked it wouldn't. Citing the Supreme Court precedent about the children of immigrants, the court acknowledged the purposes underlying DACA and noted that "it is not realistic to expect that Mr. Vargas would leave the only country he has known since the age of five and return to a country with which he now has little more than a connection by birth." That's legal realism — the kind lawmakers have been unable to contend with in their squabbles over immigration reform.   
(This is where a disclosure is necessary: I was actually there when César Vargas first assembled his court appeal sometime in late 2012. It was pure coincidence, though: I was hoping to land a summer gig with LatinoJustice PRLDEF, the civil-rights and legal advocacy group that represented him before the appeals court. I didn't get it, but José Pérez, the group's deputy general counsel, introduced us. I've kept up with his case since.)
It's been a long time coming for Vargas, who graduated from the City University of New York School of Law in 2011, passed the bar that same year, and has been busy doing immigration activism since. But Vargas's résumé also has New York City written all over it. He graduated with top grades as both an undergrad and a law student. He's interned for the Kings County District Attorney's Office, for a New York State Supreme Court judge, and for a CUNY clinic that provides legal representation for low-income New Yorkers. The New York Law Journal, the state's daily legal periodical, splashed the news of Vargas's favorable court ruling in its front page.
In a way, Vargas is used to being something of a celebrity in the immigrant community: He's had a profile in the New York Times, makes regular media appearances, and co-directs an advocacy group for DREAMers, DRM Action Coalition. Last year, a video of Vargas and co-director Erika Andiola interrupting Iowa congressman Steve King went viral — memorable for how Senator Rand Paul, who was at the table with King, stopped eating a sandwich and ran from the confrontation.
The first thing Vargas did upon learning news that he could now practice law was call his 70-year-old mother, Teresa Galindo — the woman who brought him to the United States. "I told her, 'We did it,'" he told the Times.
Vargas's court victory came with a bit of irony: Just as he welcomed the news from New York, he was in an Iowa courtroom in Des Moines, defending himself from trespassing charges after he and another activist were arrested for interrupting proceedings at a conservative gathering to question New Jersey Governor Chris Christie and former Texas Governor Rick Perry. Vargas is already arguing like a lawyer: The Des Moines Register reported that his main argument was that the disruption was protected by the Constitution.