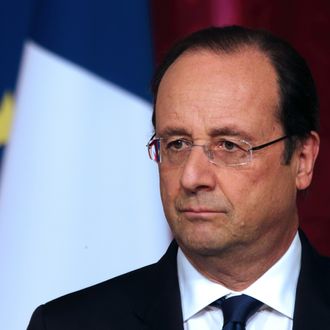 Photo: Philippe Wojazer/Reuters/Corbis
From 2006 to 2012, the NSA spied on three French presidents by listening in on their work and personal phone calls, according to documents released by WikiLeaks yesterday. Beginning with Jacques Chirac in 2006, continuing through Nicolas Sarkozy's presidency, and ending after François Hollande's election in 2012, the NSA secretly recorded conversations about Middle Eastern peace talks, the Greek economy, and "the U.S. desire to continue spying on France," among other things.
The WikiLeaks revelations had the French government seething today. Hollande called the spying "unacceptable," convened an emergency meeting of the defense council, and had the U.S. ambassador to France, Jane Hartley, summoned for a scolding. A U.S. National Security Council spokesman responded to the furor with a statement saying the U.S. is not spying on Hollande and has no plans to do so the future. He didn't address whether spying had occurred in the past.

The timing of the WikiLeaks revelation seems well planned. The French parliament is expected to approve a controversial new surveillance law today giving spy agencies the right to tap phones and read emails without a judge's approval.