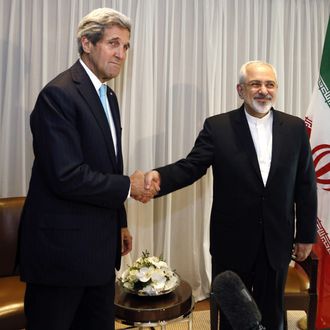 Iranian Foreign Minister Mohammad Javad Zarif shakes hands State Secretary John Kerry in Geneva.
Photo: Rick Wilking/AFP/Getty Images
June 30 is the day that Secretary of State John Kerry, Iranian Foreign Minister Mohammad Javad Zarif, and several other diplomats were supposed to proudly shepherd their nuclear deal into the spotlight so the international peanut gallery could be both impressed and incensed by it. 
However, since nuclear negotiations with Iran are kind of hard, there is no way the agreement will be completed today. The whole diplomat gang is in Vienna fighting over the few big problems that remain. The new plan is to get the accord finished, written up, and approved by lawyers in the next week so that the next deadline isn't swept aside too. 
The agreement needs to reach Congress by July 9 for review and approval. If it doesn't, legislators will have 60 days instead of 30 days to look it over, which means that opponents with money to burn will have more time to convince those on the fence to vote against it — or else be dogged by attack ads endlessly. 
Kerry and Zarif have both acknowledged that this week will probably be excruciatingly difficult. Iran is worried about the timetable for lifting sanctions, while the U.S. wants to make sure this agreement won't end with Iran rebuilding its nuclear-power capabilities a decade from now.
"I feel the negotiations have reached a very sensitive stage," Zarif said this week, according to the New York Times. Or, as a U.S. official who was able to express a bit more anxiety owing to anonymity told The Wall Street Journal, "We still do not know yet whether we will be able to get there … We want to, we hope to, but we do not know."
Although officials are being optimistic, if guarded, about the next week, the trying discussions will merely be a quiet and calming prelude to what likely awaits the agreement in Congress. (Remember that letter that Senate Republicans sent to Iran?) The Guardian guesses that there are about 58 senators who would probably vote against a deal at this point, evaporating years of negotiations in a single "nay." If Obama vetoed a strike-down of the agreement, 67 senators would need to join together to override it. 
According to the Boston Globe, although the talks have been difficult, Kerry and Secretary of Energy Ernest Moniz are glad that they had the chance to discover how awesome the other was. "We're both Massachusetts kids and we're both Red Sox fans and Patriots diehards," Kerry said — before noting that they have debated the physics of Tom Brady's balls. "He enjoys an evening of conversation, a bottle of wine, and a great meal. And sitting around and talking about a lot more than nuclear programs … He's very good company." Moniz told the Globe, "We've certainly had a lot of food together. And I have to say, I'm very impressed with John's caloric intake while maintaining such a fantastic physical condition."
Correction: An earlier version of this post said the next deadline for the Iran nuclear deal was June 9. The next deadline is obviously not in the past, and will be on July 9.