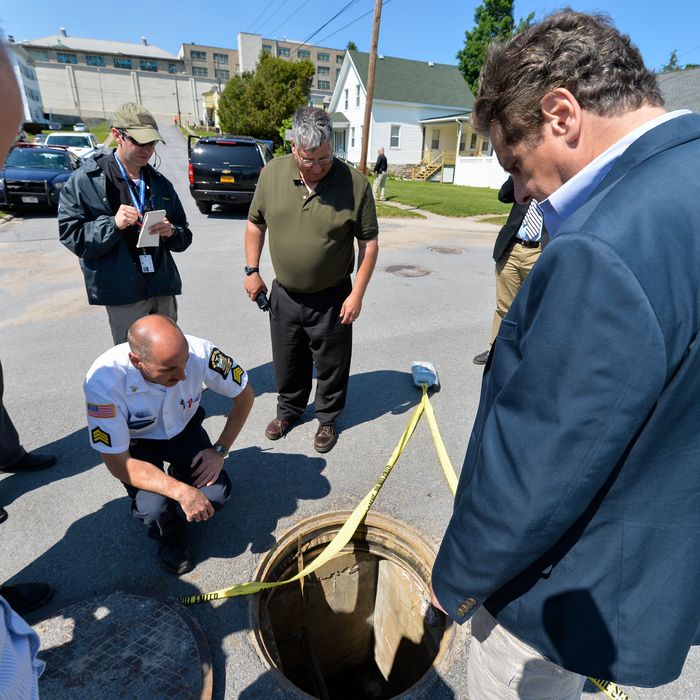 Photo: Darren McGee/New York State Governor's Office via Getty Images
From the body-shaped piles of clothing left under their blankets to their convoluted path through the bowels of the Clinton Correctional Facility, everyone agrees that the prison escape last weekend in Dannemora, New York, sounds like something cooked up by Hollywood. "This really could have been a movie script," Governor Andrew Cuomo told the Today show. "If you saw it as a movie script, it would have been unbelievable, frankly." And now, much like a film that's dragged on too long, everyone's eager to see the story come to a close. Three days into the manhunt, convicted murderers David Sweat and Richard Matt could be holed up near town, making their way across the nearby wilderness, or even in another country. None of those popular theories can be ruled out entirely, but experts say some are a bit far-fetched.
Authorities say Matt and Sweat were last seen during a standing count inside the prison at 10:30 p.m. on Friday, but on Monday ABC News reported that they were spotted two hours later in the backyard of a home located near the manhole where the prisoners emerged. The witness said he and his friend were heading home when they spotted two men with a guitar case (which, according to the New York Daily News, is what the inmates were using to carry their tools). The witness says that when confronted one of the men said, "We're just lost. We don't know where we are. We're on the wrong street." Then both took off running.
Experts doubt that their plan was to simply put distance between themselves and the prison. "They could be out of state, but they still could be holed up here in Dannemora," Major Charles Guess, commander of the New York State Police, said on Sunday. Multiple agencies, including the FBI and the U.S. Marshals Service, are assisting in the manhunt, and on Monday armed officers were still stationed throughout Dannemora, students were kept indoors, and vehicles were being stopped and searched at checkpoints on major roads throughout the region.
Cuomo said he thinks Matt and Sweat "definitely had help," as it's hard to see how they would have made off with the power tools they used to cut through walls and pipes on their own. There are reports that a civilian training supervisor from the prison tailor shop is being questioned about her role in the prison break, and if the men had an accomplice it's even more likely that they would have a spot to lay low on the outside. "I've seen situations where guys who have gotten out of prison, that was their biggest goal, and they're standing out there looking at the sky saying, 'Now where do I go? What do I do now?' They don't plan ahead," Lenny DePaul, former commander of the U.S. Marshals Service regional fugitive task force for New York and New Jersey, told Daily Intelligencer. "These guys seems a little bit more sophisticated. It seems like they would have a plan B, and a plan C in case that goes south."
Dannemora is tucked high in the Adirondack Mountains, and some have speculated that the two inmates may be hiding in the surrounding forests. However, Pat Patten, founder of the Tactical Woodland Operations School in North Carolina, says that's unlikely. "The misconception that many folks have is that they can go survive in the woods, but that's really not the case. That's just a fallacy that we've been led to believe," said Patten, who was involved in the manhunt for 1996 Atlanta Olympics bomber Eric Rudolph and now trains law enforcement on how to conduct searches in wooded areas. Some fugitives have been able to avoid capture for months or even years by hiding in the forest, but in those cases the suspects had military or outdoor survival training — and while Matt and Sweat certainly proved that they're resourceful, that isn't something you can prepare for while serving a lengthy prison sentence. "When you take those book skills up into the woods and you have to be able to track the rabbit, or the muskrat, or what have you, in order to eat, then that's a whole different thing," Patten explained. "Plus, you have to have a lot of specialized equipment to stay out, even in the summertime."
The Clinton Correctional Facility's location has also sparked concerns that Matt and Sweat made their way into Canada, maybe before corrections officers even realized they were gone. "There is precedent for wanted felons and jail escapees to cross the border into Canada from the States, although this is quite rare," said David Hyde, who operates a Toronto-based security management, consulting, and training company. "In reality, there are portions of the border within relatively close proximity to Clinton Correctional Facility that would allow fairly straightforward passage into Canada." But the Canadian Border Services Agency and the Ontario Provincial Police force are both on heightened alert, and Hyde said, "If I had to place a bet on this one I'd say they're likely holed up in New York State."
Authorities on our southern border are on the lookout as well, since Matt spent nine years in a Mexican jail and is so fond of the country that he has "Mexico Forever" tattooed on his back. But DePaul says that with all the media attention generated by their escape, Matt and Sweat are going to have a harder time than the average fugitive. "We're getting people putting these photos [of the suspects] on Facebook and social media, so there are a lot of eyes and ears out there," said DePaul. "It's kind of making it impossible for them to show up at 7-Eleven and grab a Slurpee." So the cross-country road trip is probably out.