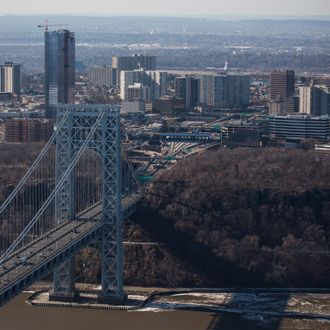 Photo: Andrew Burton/2014 Getty Images
The FBI arrested 21-year-old Fareed Mumuni on Wednesday as part of a larger ISIS-related terrorism investigation. The FBI-NYPD Joint Terrorism Task Force went to his house in Staten Island to conduct a search, and Mumuni allegedly tried to repeatedly stab one of the FBI agents and steal the gun of another. The agent only had minor injuries — the knife did not pierce his body armor.
Mumuni waived the right to remain silent after his arrest and told authorities that he planned to hurt law-enforcement officials until he had a chance to fight for ISIS in the Middle East. 
Today's arrest was related to the arrest of 20-year-old Queens college student Munther Omar Saleh announced on Tuesday. The pair was accused of allegedly planning to bomb New York City on behalf of ISIS. The FBI is investigating others who may have been involved with this alleged plot, but haven't released any additional names.
Federal authorities started paying attention to Saleh after a Port Authority cop watched him loitering near the George Washington Bridge in March. The next day, he was found on the bridge again. Saleh later told a confidential informant that he was "making efforts to prepare an explosive device for detonation." Instructions for how to make a pressure-cooker bomb were found on his computer, along with pictures of New York landmarks, and Saleh searched for tips on how to evade the police. On May 10, Saleh went to a spy shop but bought nothing. He tweeted support for several recent terrorist attacks, and said, "I fear AQ could be getting too moderate."
According to CBS2, "Saleh allegedly urged Mumuni to use a bomb to attack members of law enforcement and then to use a car to run over any responders, grabbing their weapons to shoot other victims." Saleh's father told CBS2, "They were setting him up with the informants and they should know. I'm not going to say anything else but that." Mumuni's uncle told the New York Daily News that he didn't think he had tried to stab FBI officials. "You think he'd be alive if he did that? They would had shot him in the living room. He may been caught with the wrong crowd."
Mumuni's neighbor on Staten Island, Don Dwonkowski, doesn't believe the charges are true, either. "He's a fricking nice guy. I really like the kid. I love having him as a neighbor. I just don't believe it." 
This post has been updated throughout.