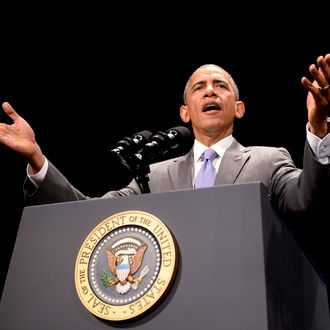 Help yourself to more
"gifts,"
everybody.
Photo: Olivier Douliery - Pool/Getty Images/2015 Getty Images
It appears that last week's string of victories has made President Obama go mad with power and/or the insatiable desire to help Americans before the end of his time in office. In one of the administration's most significant efforts to address income inequality, the White House plans to make salaried workers who make up to $50,400 per year eligible for overtime pay. Currently, workers only qualify for time-and-a-half if they make under $23,660, and changing the rule could make an additional 5 million workers eligible for overtime if they work more than 40 hours a week.
The president announced his proposal in a Huffington Post op-ed, writing:
We've got to keep making sure hard work is rewarded. Right now, too many Americans are working long days for less pay than they deserve. That's partly because we've failed to update overtime regulations for years — and an exemption meant for highly paid, white collar employees now leaves out workers making as little as $23,660 a year — no matter how many hours they work.

This week, I'll head to Wisconsin to discuss my plan to extend overtime protections to nearly 5 million workers in 2016, covering all salaried workers making up to about $50,400 next year. That's good for workers who want fair pay, and it's good for business owners who are already paying their employees what they deserve — since those who are doing right by their employees are undercut by competitors who aren't.

That's how America should do business. In this country, a hard day's work deserves a fair day's pay. That's at the heart of what it means to be middle class in America.
After adjusting for inflation, the proposed figure would bring the overtime threshold back in line with where it was the last time it was updated, back in 1975. According to Politico, 8 percent of salaried workers are currently covered, but the new rule would make about 40 percent of workers eligible (62 percent were covered in 1975, but other changes in the nation's economy account for the discrepancy).
The administration can issue the new regulation unilaterally, but there will almost certainly be efforts to fight it. Many Republicans say the shift would hurt businesses, and Congress could try to block it. "Republicans could, for example, attach a so-called rider undoing the change to must-pass appropriations measures later this year," according to the New York Times. The White House is also anticipating a court challenge, and Politico reports their hope is to have the review process completed by 2016, so the rule would go into effect while Obama's still in office.