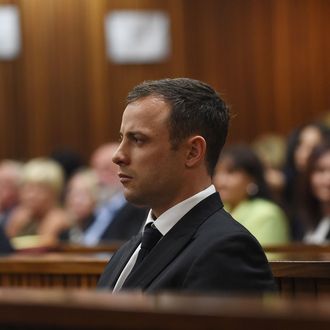 Photo: Phill Magakoe - Pool/Independent Newspapers/Gallo Images/Getty Image
Oscar Pistorius, the South African Olympic sprint runner who was found guilty of manslaughter in the 2013 shooting death of his girlfriend Reeva Steenkamp, will be released on probation in August, according to the BBC.
Pistorius was sentenced in 2014 to five years in prison, but a South African law makes him eligible for release under "correctional supervision" after serving a sixth of his sentence. South Africa's correctional services department recommended last week that Pistorius be released by August 21, after having served ten months in jail. He will likely be kept on house arrest.