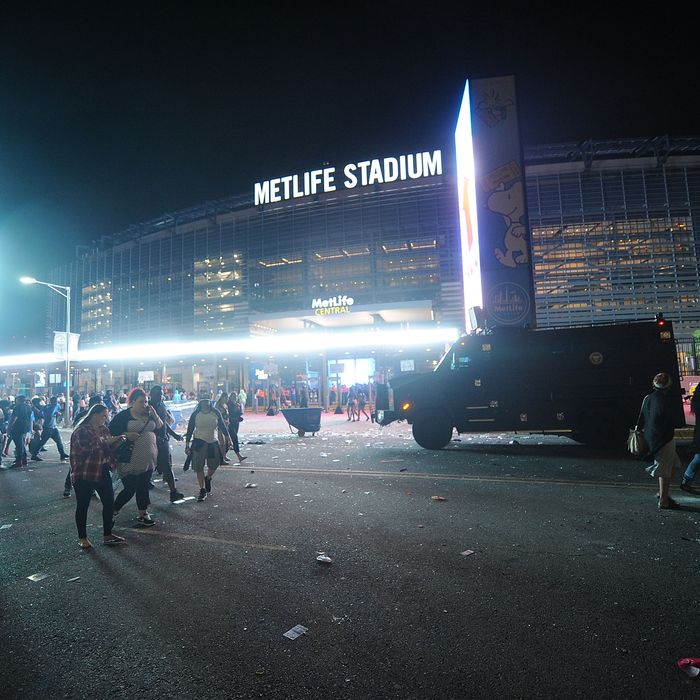 Photo: Brad Barket/Getty Images
While those who made it into the Hot 97 Summer Jam were watching Kendrick Lamar, Trey Songz, Big Sean, and Chris Brown perform on Sunday night, an ugly scene was unfolding outside MetLife Stadium in East Rutherford, New Jersey. The Record reports that after a fight broke out outside the stadium around 7 p.m., police shut the gates, leaving many people who paid hundreds of dollars for tickets locked out of the event. As the crowd grew angrier, throwing bottles at police and trampling metal barriers, State Police in riot gear tried to clear the area with noise machines, clubs, and tear gas. 
In a statement released several hours later, police suggested that those outside the stadium were trying to sneak in, saying, "This evening, security personnel at one of the entrance gates to MetLife Stadium were confronted by crowds attempting to illegally enter the sold-out Summer Jam concert by climbing over fences and forcing their way through security personnel." Emmis New York, which owns the station, said the show sold out early and, "When fans realized tickets were not available at the box office, a small number of people created an unsafe environment, and for the safety of all guests, the New Jersey State Police were on scene to disperse the crowd. The gates were closed at that time. No further entry was permitted into the event."
However, according to media reports the crowd outside the venue included VIP ticket holders and people hired to work the show. One concertgoer said there were empty seats inside the stadium. Hot 97 said people who have tickets that were not scanned will be offered a refund.
According to the Daily News at least one state trooper was injured, and a Record photographer said an officer hit him in the head with a riot shield while he was trying to photograph the scene, but he was not badly hurt. Arrests were made outside the event, but police would not say how many people were taken into custody.