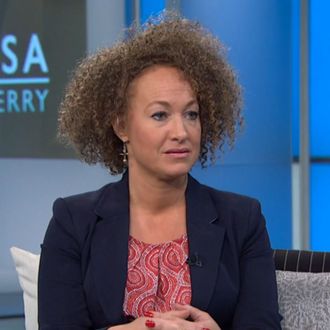 Rachel Dolezal's media tour continues today, with an interview with MSNBC's Melissa Harris-Perry. Harris-Perry opens the segment by asking Dolezal straight up if she's black, to which she responds: "Yes." Dolezal says that not only did she feel an "instinctual connection" with "black is beautiful" as far back as kindergarten, but as the mother of two black sons, she has "really gone there" with the black experience. 
Dolezal also fought back against the accusation that she's a con artist, instead expressing that she is a victim in the situation, as being a white woman who felt on the inside she is black has been extremely isolating for her. "Nobody really got it," she said.
Meanwhile, Dolezal's parents have continued their international tour of passive aggressively undermining her by telling TMZ that no, she never actually colored with brown crayons instead of peach ones as a child. Sorry, Rach.