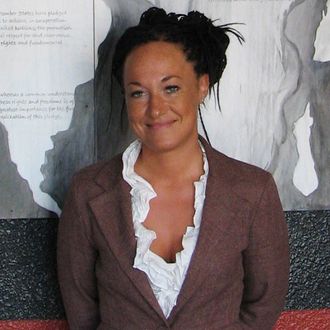 Photo: Nicholas K. Geranios/AP/Corbis
Notorious faker Rachel Dolezal has resigned her post as the president of the Spokane branch of the NAACP after she attempted, for years, to pass as black. And no, she's not sorry.
In a lengthy letter posted to the group's Facebook page, Dolezal reaffirmed her commitment to racial and social justice, but declined to apologize for pretending to be black. Instead, she listed the accomplishments she achieved while serving as the chapter's president and said she'd continue fighting for human rights:
It is with complete allegiance to the cause of racial and social justice and the NAACP that I step aside from the Presidency and pass the baton to my Vice President, Naima Quarles-Burnley. It is my hope that by securing a beautiful office for the organization in the heart of downtown, bringing the local branch into financial compliance, catalyzing committees to do strategic work in the five Game Changer issues, launching community forums, putting the membership on a fast climb, and helping many individuals find the legal, financial and practical support needed to fight race-based discrimination, I have positioned the Spokane NAACP to buttress this transition.
In the letter, Dolezal also does not cop to lying about being black, instead saying she was "challenging the construct of race." Okay, then.