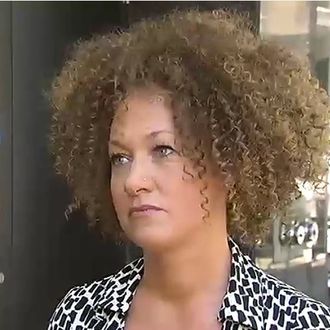 Photo: Screengrab from WKXLY.
Rachel Dolezal, the NAACP Spokane chapter leader who pretended to be black and subsequently gave the internet endless joke fodder, was scheduled to meet with the organization on Monday to make a public statement about the controversy. On Sunday, she sent an email to Spokane NAACP members saying she would be postponing the meeting "due to the need to continue discussion with regional and national NAACP leaders."
Spokane NAACP board members weren't having any of her excuses. One wrote back saying that he questioned her authority to "arbitrarily" postpone the meeting. "It seems to me that it would be prudent to allow for or invite your executive committee to weigh in on a decision such as this," he wrote.
The executive board meeting will reportedly go on as planned, though it's unclear whether or not Dolezal will show. To be fair, she did have a rather excruciating weekend: Her adopted brother Ezra likened her attempts to pass as black to blackface.
"She puts dark make-up on her face and says she black," Ezra Dolezal told BuzzFeed News. "It's basically blackface."
Dolezal said his sister also told him not to "blow her cover" in Spokane, because she wanted to start a new life for herself as a black woman.