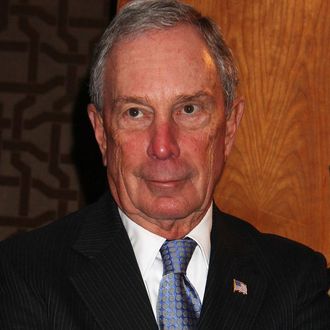 Michael Bloomberg.
Photo: Laura Cavanaugh/Getty Images
Democrats hoping to draft Elizabeth Warren into the 2016 race finally acknowledged on Tuesday that she has no intention of running, but some refused to accept defeat (or Bernie Sanders). The New York Post's Michael Goodwin reports that several New York Democrats approached Michael Bloomberg to see if he'd be willing to take on Hillary Clinton. The former mayor has toyed with the idea of running for president, but a year ago he told CBS News he'd only be interested in running "if I thought I could win," and as an independent, and "it's just not possible." While Bloomberg said in the same interview that he thinks Clinton is a "spectacular" candidate, one of the Democrats who met with Bloomberg said they think he might be interested in running because "Mike can't stand Hillary."
Goodwin admits it's "far from certain" that Bloomberg will run, but the group took the billionaire's display of basic courtesy as a good sign. Goodwin writes:
One visitor to the former mayor came away cautiously optimistic after a 30-minute meeting, noting that Bloomberg didn't throw him out of the office or start fiddling with his smartphone.

"That means he wasn't bored and was listening," said another man who talked to the three-term mayor. They were also encouraged that Bloomberg said something to the effect that it would be "no problem" for him to drop his unaffiliated registration and become a Democrat again.
They should have mentioned the Post's recent claim that Mayor Bill de Blasio wants to run in 2016, though he would definitely lose. Neither man will ever be president, but Bloomberg wouldn't pass up an opportunity to beat de Blasio.