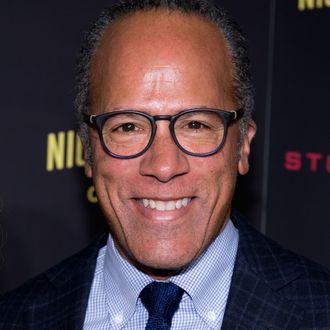 The new BriWi, aka LesHo.
Photo: Noam Galai/WireImage/2014 Noam Galai
A week after reports claimed that NBC is trying to find a new role for Brian Williams, anonymous sources continued their effort to gently inform America that BriWi will never sit at the NBC Nightly News desk again. Williams's suspension over his exaggerations and/or lies is up in August, and it's still unclear whether he'll be let go or relegated to some Ann Curry–esque anchor purgatory. Lester Holt has maintained the show's ratings in Williams's absence, and CNN Money reports its "exceedingly unlikely" that the network will name anyone else permanent anchor. Holt should probably start brushing up on his news slow-jamming skills … or just focus on reading the news.