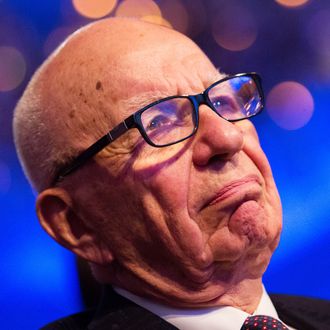 Rupert Murdoch.
Photo: Drew Angerer-Pool/Getty Images
Australian bazillionaire Rupert Murdoch is preparing to step down from his role as CEO of 21st Century Fox, according to a report from CNBC. But don't worry, he's not going far: The 84-year-old will reportedly hand the CEO reins over to his son, James Murdoch, and will continue to serve as Fox's executive chairman.
Murdoch's eldest son, Lachlan, with whom he's long had a contentious relationship, will also be taking on an executive chairman role at the company. The brothers will reportedly run the company as a "partnership," though James will be responsible for overseeing day-to-day operations.
Murdoch's retirement should give him plenty of time to focus on settling into his new $25 million West Village townhouse.