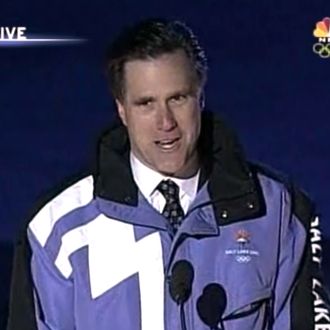 Scott Walker is in the lead, wait, no, Marco Rubio is about to pass him, and what's that? Is that Mitt Romney?
Photo: NBC
Mitt Romney is hosting his third annual retreat in Utah, and 2016 candidates are rushing to the Deer Valley Ski Resort today like it's a Pizza Ranch in Iowa. Romney, who is not running, appears to have used his free time to plan an election-themed version of the Romney Olympics, a family sporting tournament involving events like "Who Can Hammer the Most Nails into a Board in Two Minutes?" in the state where he planned an actual Olympics. Attendees will be able to try events like "Flag Football with Marco Rubio," "Hiking with Mitt and Tagg Romney," "Skeet Shooting with Lindsey Graham," and "Sunrise Yoga with Ann Romney and Mark Halperin." Since the Bloomberg Politics reporter will be in attendance, B minuses may be awarded instead of gold medals. The AP reports that actual Olympics contender Rafalca will not be in attendance and that this summit is not actually a sporting event, but a speed-dating seminar for presidential contenders and unattached donors. 
The chairman of the Utah Democratic Party told the Deseret News that it will be hosting a convention this weekend too. "We'll be in a public high school versus an elegant hotel. And we'll be eating pizza and hot dogs versus Chateaubriand. It's an interesting juxtaposition." It was not clear how many would be attending, as Utah Democrat sightings are rarely reported in the state.