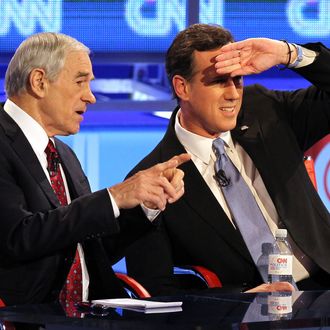 Look, a voter in the distance! Can you see it? Oh wait, no, that's a hologram.
Photo: Justin Sullivan/2012 Getty Images
Rick Santorum is making the rounds in Iowa, a place that showed an unexpected amount of affection for the former senator and his pickup truck in 2012. A stop at Darrell's Place in Hamlin yesterday made it clear that he's going to have to push the boulder up the mountain all over again. Peggy Toft, the chair of the local Republican Party, was the only person there when the event began. 
The Des Moines Register noted that "the low turnout wasn't surprising, he said, but all part of the plan." However, it must have been disappointing given that Santorum had courted an overwhelming crowd of ten hours earlier. 
Santorum immediately enlisted Toft as a consultant, calling on her expertise to pick something from the menu. "They're known for their breaded tenderloins," she advised, "but there's a lot of good choices here." There were more photographers and reporters on hand than voters, and they also showed off nutritional acumen. One woman recommended the rhubarb pie. 
Santorum decided to side with his potential constituent and ordered the tenderloin and onion rings. When the food appeared, the stampede swelled to four. 
The presidential candidate, perhaps sensing that he would get made fun of later, told reporters that "People don't understand. One guy in there said, 'I'll speak for you at the caucus.' That's maybe eight votes that you wouldn't otherwise get. Eight votes can make a big difference, as I know."
Not so big a difference that Rick Santorum won the primary, but baby steps here.