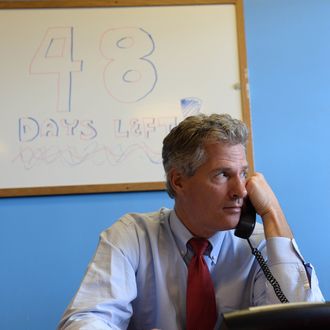 Hi, I'm looking for a senate seat? Oh, you only have bike seats? That's ok for now, I guess.
Photo: Darren McCollester/Getty Images
Former Massachusetts Senator Scott Brown is still hanging out in New Hampshire, where he lost a Senate race last year. It's not clear Brown has any impending electoral plans; he swears he is content collecting bike seats instead of Senate seats for the moment. Brown is working as one of the nine regular bike mechanics at Gus' Bike Shop. "This is a 'bucket list' thing," he told Fosters' Daily Democrat. "I have a few more that I am looking forward to doing, then I have to get back to business." Brown's job also entails "routinely [taking] big cardboard bike boxes to the dump."
When not repairing bikes, Brown appears on Fox News, runs for fun — not Congress — and attends Journey concerts. He also "follows the 2016 presidential election on a daily basis and he has met with or spoken with nearly all of the Republican candidates," which goes a long way toward explaining why he just wants to hang out in a bike shop all day.