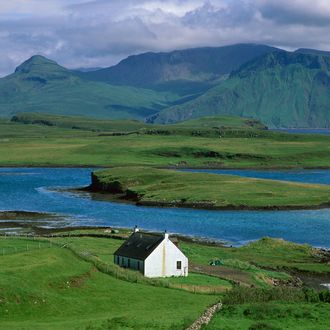 The Isle of Canna in the Inner Hebrides.
Photo: Colin Monteath/ Hedgehog House
The small Hebridean island of Canna is in upheaval this week in the aftermath of the biggest and most shocking crime that residents have witnessed in decades. 
Someone stole six woolly hats from the Canna Community Shop last weekend.
The thieves also stole candy and batteries — and also stopped at the island's new cosmetics shop to take some beauty products. 
It was the first crime to happen since that time someone stole a wooden plate from the Rhu Church in the 1960s, a theft that remains unsolved. Other reports dispute this, noting that at least two other crimes have happened since the Wooden Plate Incident.
Crime was so rare in Canna, home to 26 people and no police station, that the volunteer-run Community Shop was kept open 24/7 so fishermen could buy supplies in the night and so residents had access to Wi-Fi. The honor system was the town's Magna Carta; those who took things from the shop were supposed to leave money in a box and note purchases on a ledger.
The thieves took away the town's trust along with the cookies and cosmetics; the store will now be locked at night, and Scotland police officers are investigating the crime — and assume it must have been the work of tourists. 
In the end, Canna just wants its peace of mind back — and a chance to see the six woolly hats that Julie McCabe spent hours making at least one more time. One resident told CNN, "The police were here; they're doing their investigation, and we're hoping we'll get somewhere. We just want to get the hats back."