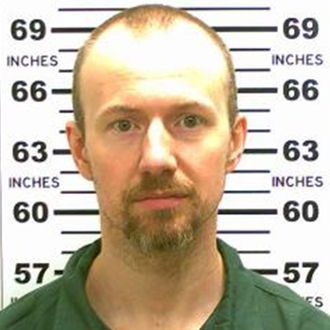 Photo: New York State Police via Getty Images
Two days after Richard Matt was killed by federal agents, second prison escapee David Sweat was shot and taken into police custody on Sunday afternoon. According to The Wall Street Journal, at around 3:20 p.m. Sweat was spotted jogging on the side of the road in Constable, New York, which is about one and a half miles from the Canadian border and 40 miles from the prison the men escaped from on June 6. During a routine patrol, New York State Police sergeant Jay Cook recognized Sweat, got out of his vehicle, and ordered him to come over to him. Sweat waved his arms, as if to say "what do you want from me," then turned and fled, heading toward a line of trees. Cook pursued him, and when he realized that he was about to disappear into the woods, Cook, who is also a firearms instructor, shot the fugitive twice in the torso. 
Sweat was taken to nearby Malone for medical attention, then transferred to Albany Medical Center. Early on Monday morning he was listed in critical condition, and hospital officials said he will need to remain in the hospital "for at least a series of days," though it's "premature" to say whether he will require surgery. None of the 1,300 law-enforcement personnel actively looking for Sweat, nor any civilians, were hurt in the final confrontation.
Thomas MacDonald, who owns a farm in Constable, was inside watching TV coverage of the manhunt while Sweat was being taken into custody nearby. His girlfriend, Denise Yando, told the Journal that a neighbor drove up to the house to tell them state troopers were swarming on their property. "I was going to go outside to walk my dog and that's when we saw the rescue" vehicle, Yando said. "I'm still kind of in shock. I can't believe this is all happening and we were watching TV."
Sweat has yet to be questioned, and it's unclear if he said anything as he was taken into custody. "There's a lot of spaces between the time they left Dannemora prison three weeks ago and when they were apprehended, and we'd like to fill in some of those spaces," said state police superintendent Joseph D'Amico. Keeping with the manhunt's movielike tone, D'Amico said DNA was found on a pepper shaker at one of the inmates' suspected camps, and they believe they were using pepper to throw police dogs off the scent, like in the film Cool Hand Luke. "We did have difficulty tracking, so it was fairly effective in that respect," he said.
Sweat was serving a life sentence without parole for killing Broome County sheriff's deputy Kevin Tarsia in 2002. Clinton County district attorney Andrew Wylie said Sweat will likely be charged with escape, burglary, and various other counts.
Cook is a 21-year veteran of the state police who has two daughters, ages 16 and 17. "I said to Sergeant Cook … to go home tonight and tell your daughters that you're a hero," Governor Andrew Cuomo told reporters. "With teenage girls, that will probably last a good 24 hours and then you go back to being a regular dad, as I well know."
Now that Matt is dead and Sweat is back in custody, the 22-day, multi-million-dollar manhunt has finally come to a close. As Governor Cuomo said at a press conference Sunday night, "The nightmare is finally over."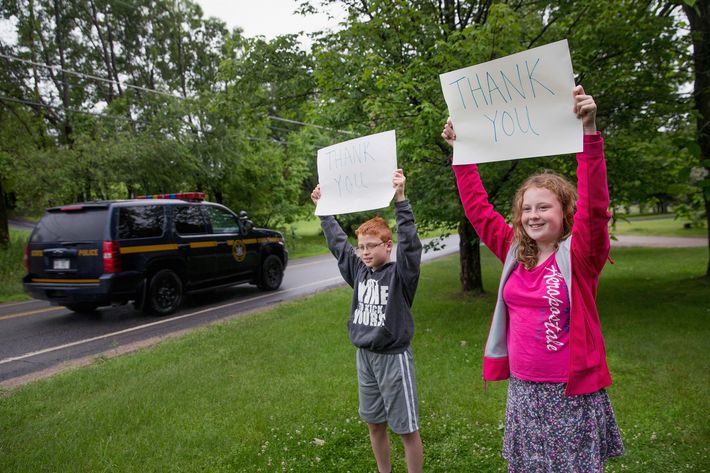 This post has been updated throughout.