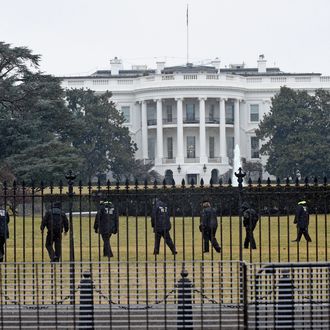 Secret Service officers search the south grounds of the White House in Washington, Monday, Jan. 26, 2015.
In a Veep-esque move, the Secret Service just embarrassed itself while attempting to get past its recent spate of embarrassing scandals. The agency began hiring more agents after a fence-jumper managed to make it into the White House last September, and the Washington Post reports that, in their rush to expand, several dozen agents were allowed to start working in sensitive positions — including White House meetings concerning classified information — even though their applications for the required top-secret security clearance had yet to be processed. 
Secret Service director Joseph P. Clancy reportedly acknowledged the problem in a conversation last week with Congressman Mark Meadows, who was tipped off by a whistle-blower. "The director has taken immediate steps to accelerate the top-secret adjudication process and has allocated additional resources to ensure that this is completed as quickly as possible," said Secret Service spokesman Brian Leary. Last week there were up to five dozen officers working without the proper security clearances, but Leary said the last ten applications, which include a background check and lie-detector test, should be processed by Friday.