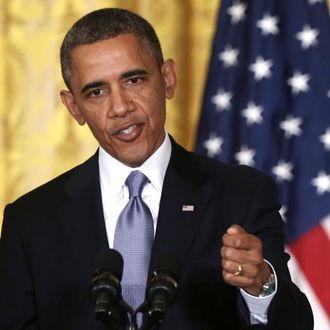 Photo: Alex Wong/2013 Getty Images
After weeks of major reservations from Democratic lawmakers, the Senate finally passed a fast-track authority bill that will make it easier for President Obama to finish the Trans-Pacific Partnership trade deal without worrying that Congress would later unravel it. Fast-track authority, or trade promotion authority, will stop Congress from filibustering or amending the trade deal after negotiations between the 12 countries involved are finished. The bill gives the president this power for six years, which means the next president will get to enjoy it too — one reason some lawmakers opposed the fast-track bill.
The bill passed 60-38, and is now headed to the White House for Obama's signature. 
Senate Democrats worried about the trade deal were not happy about the vote. "This body should not give up its authority to make better trade agreements," Senator Sherrod Brown said on the Senate floor. "We've seen big promises and bad results on trade issue after trade issue after trade issue after trade issue."
Later this week, both the Senate and House will debate legislation that would help workers adversely affected by the trade deal — a policy that House Democrats opposed this month, hoping it would derail passage of the fast-track bill. Now that fast-track has passed, it seems likely that this policy will make it to Obama's desk too. 
Negotiations for the trade deal are definitely not done, as the countries argue over the most contentious details that always seem to get saved for last. And just because Congress doesn't have the ability to amend the deal doesn't mean that Congress will pass it. 
Senate Majority Leader Mitch McConnell, who mostly agrees with Obama on the importance of the trade deal, feels pretty good about what they've accomplished so far, regardless of what lies ahead. "We had plenty of bumps along the road. Frankly, a few big potholes too. But we worked across the aisle to get through all of them."