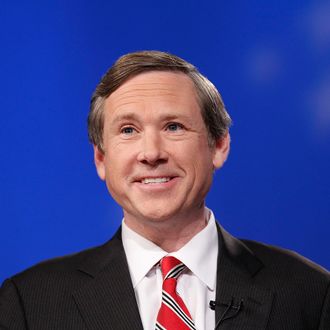 Photo: Brian Kersey/Getty Images
He's a divorcé who's had the same haircut since high school. And he's on an episode of The Bachelor ... in his head. It's not a scene out of the Entourage movie — it's a United States Senate hearing!
During a Senate Appropriations Committee hearing on Thursday, Republican Senator Mark Kirk had this to say about Lindsey Graham, presidential candidate and fellow single man who recently said he'd have a "rotating first lady" should he be elected:
"I've been joking with Lindsey, 'cause he doesn't have … did you see that?" Kirk is heard saying. "He'll have a 'rotating first lady.' He's a bro with no ho."

Then, as pointed out by our colleague Philip Bump, it sounds like Kirk added: "That's what we'd say on the street." (Which streets exactly? The mean streets of Pennsylvania Ave.? Constitution Ave.?)
I think I'd rather just watch the Entourage movie.