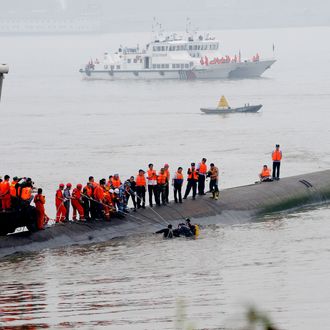 Chinese rescuers pull a 65-year-old passenger.
Photo: Chen Liang/Imaginechina/Corbis
On Monday night, the Eastern Star sank while trying to navigate through a cyclone on the Yangtze River. The cruise ship was filled with 458 people, mostly elderly tourists on a ten-day group tour. The ages of those aboard ranged from three to more than 80. At least 15 survivors have been found, but 430 people remain missing. 
At least five bodies have been recovered. Impatient for information, family members of the missing have swamped tourism agencies and the office of the ferry company that ran the ship. Huang Jing, who had two family members on the ship, told the Associated Press, "Nobody has told us anything. This is something we can't accept."
The last high-profile transportation accident in China happened in 2011. A high-speed train crash left 40 people dead. 
Many foreign journalists who tried to head to the scene of the accident were turned away. A few of the survivors have relayed what happened when the boat sank to Chinese news organizations. Zhang Hui, a tour guide who survived said that the ship tipped over so quickly that many people, including himself, didn't have time to put on life jackets. It was late enough at night that many people were already asleep. "Life jackets are accessible in all of the cruise's cabins," he said. "If it had not happened so fast, a lot of people could've been saved." There may still be survivors trapped in the ship, kept alive by pockets of air. 
Thousands of people are involved in rescue efforts.