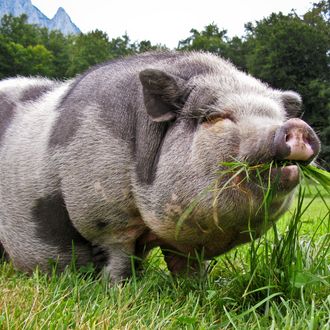 This is not Steven Cohen's pig. But it is a beautiful pig.
Photo: Digitaler Lumpensammler/Getty Images
SAC Capital founder Steven A. Cohen is worth $11.4 billion and has more mansions than your apartment has rooms, but until recently his most prized possession was a pig named Romeo. "Page Six" reports that Cohen purchased the piglet as a pet for his six kids, but recently decided to ship it off to a farm after it got too fat and moody.
"Their pet pig was like a member of the Cohen family," a source told the Post. "Romeo had a room in their house. He was treated like the king of the house, but he got too big, and was sent to a sanctuary in Florida. They even threw a leaving dinner for him."
Like many angsty teens, Romeo reportedly grew to over 150 pounds and began acting very moody, so an expert suggested he be sent away to live with other pigs his age. He now lives on a vegan animal rescue farm in Florida. Think of it like boarding school, but for pigs.