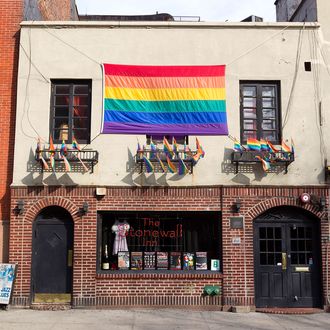 The exterior of The Stonewall Inn on March 13, 2012 in New York City.
Photo: Ben Hider/Getty Images
While Pride Month 2015 will likely be remembered for a Supreme Court decision, this week New York City's Landmarks Preservation Commission may give the LGBT community yet another reason to celebrate. On Tuesday the commission is set to hear public testimony on whether the Stonewall Inn should be designated as a city landmark, and according to The Wall Street Journal, it's expected to approve.
The bar, which is considered the birthplace of the gay-rights movement, is already on the National Park Service's list of National Historic Landmarks, and it sits in the Greenwich Village Historic District, which prevents the building from being changed without the commission's approval. But the new designation would provide additional safeguards. It would also make the Stonewall Inn the first landmark recognized within a city historic district, and the first chosen for its ties to LGBT history.