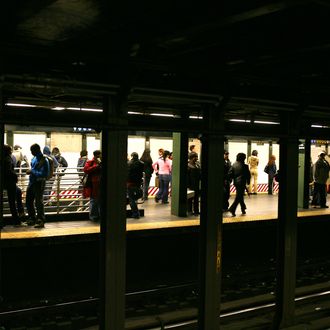 Photo: Andrew Holbrooke/Corbis
It's shaping up to be the summer of New Yorkers' greatest fears coming true. Already we've had a falling-air-conditioner incident and a falling-into-a-subway-grate incident. On Monday morning, a stranger pushed a woman onto the subway tracks in Manhattan.
According to the AP, the man began acting erratically at the 6 train Bleecker Street stop around 9 a.m. on Monday. He yelled, "What are you looking at?" at the 28-year-old woman before grabbing a plastic water bottle out of the garbage and throwing it at her. He then lunged toward her and shoved her onto the subway tracks and fled the scene.
Another passenger was able to help the woman climb back onto the platform, and she was taken to Bellevue Hospital where she was treated for minor abrasions. NBC News reports the woman is transgender, and the NYPD are investigating the incident as a hate crime.
The unknown suspect is still on the loose.