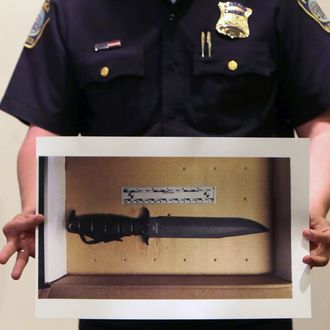 Photo: Barry Chin/The Boston Globe via Getty Images
After Usaamah Abdullah Rahim, 26, was fatally shot by police in Boston on Tuesday morning, his brother alleged that he was shot in the back and his last words were "I can't breathe!" In an attempt to prevent the outrage that has followed other recent shootings of black men by police, over the last two days authorities have tried to show that the incident was far more similar to the Boston Marathon bombing — though in this case officers were able to prevent a terror attack. Rahim had been under surveillance by a Joint Terrorism Task Force, and on Wednesday the FBI said that before he was shot while approaching officers with a large knife, he had been plotting for at least a week to randomly attack and behead police officers.
On Wednesday Rahim's nephew, David Wright, 24, was taken into custody on a charge of conspiracy with intent to obstruct a federal investigation. According to an FBI affidavit, Rahim had recently bought large knives from Amazon, and in recorded conversations with Wright he talked in code about "thinking with your head on your chest" — a reference to ISIS beheading videos. The document said that while he initially planned to behead an unnamed person in another state, on Tuesday Rahim told Wright, "Yeah, I'm going to be on vacation right here in Massachusetts. … I'm just going to, ah, go after them, those boys in blue. Cause, ah, it's the easiest target and, ah, the most common is the easiest for me." Wright allegedly told him he should wipe his electronic devices and prepare his will.
Officers from the anti-terror task force say that when they confronted Rahim on a street in Roslindale, he refused to drop his weapon and lunged at them, so they opened fire.
Sources tell CNN that the unnamed out-of-state target was Pamela Geller, the activist known for posting anti-Muslim subway ads and fighting against the so-called "9/11 mosque." Another plot against Geller was foiled last month when police killed two gunmen who opened fire outside the Muhammad Art Exhibit and Contest she organized in Texas. Geller told CNN's Erin Burnett that she's had an "army of security" since the last time a terror suspect inadvertently bolstered her dubious claims. "They targeted me for violating Sharia blasphemy laws. They mean to kill everyone who doesn't do their bidding and abide by their law voluntarily," Geller said. "This is a showdown for American freedom. Will we stand against this savagery or bow down to them and silence ourselves?"