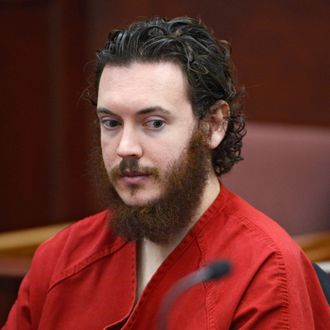 James Holmes in court on June 4, 2013.
Photo: Andy Cross/Pool/Reuters/Corbis
Amid testimony from the victims of the July 2012 Aurora, Colorado, theater shooting, on Wednesday and Thursday jurors got some insight into gunman James Holmes's personal life from his ex-girlfriend Gargi Datta. The pair, who were both graduate science students at the University of Colorado, began dating during their first semester in the fall of 2011, and had broken up by the spring. Datta was Holmes's first girlfriend and he told her he loved her, but she said she only cared for him as a friend. According to the New York Times, Datta said that while Holmes was socially awkward, he showed no interest in guns and never discussed his plan to open fire in a movie theater. "I had no idea," she said. 
However, Holmes did make concerning comments about wanting to "do evil" in an instant message in March 2012. He said he couldn't do what he really wanted to do: "Kill people, of course." "Initially I was just thinking he was messing with me, that he was joking," Datta said. But as he continued to discuss his beliefs about justice and the value of human life, she became more concerned. "At that point I start thinking maybe he is serious, but it seemed very philosophical, discussion-wise," she said. After showing the messages to a mutual friend, they decided to ask him if he was talking to a therapist about his philosophy, and he assured them that he was. After the shooting, Holmes said he regrets that his psychiatrist, Dr. Lynne Fenton, "didn't lock me up so everything could have been avoided," but he didn't share his plans with her either.
Holmes has pleaded not guilty by reason of insanity, and the defense argues that he was suffering from "florid psychosis" when he killed 12 people and injured 70. The prosecution called Datta in an attempt to prove that Holmes was adrift due to his academic problems and romantic rejection, and knew right from wrong when he was plotting to carry out the shooting.