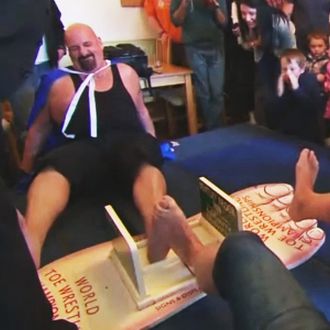 The World Toe Wrestling Championship, a sport that has existed since 1976 and that you are probably only learning about right now, took place in Derbyshire, England, this weekend. A woman only known as Tracy Tippy Toe won the women's title — taking the crown from reigning champ Camel-tois — and Alan "Nasty" Nash won the men's title for the 12th time.  
Nash's secret to success? "My technique," he told Reuters, "is to hurt the first person that comes into the ring with me: hurt them bad and terrify everyone else."
Before the competition takes place, a nurse inspects all toes to make sure no nails are sharp enough for Miss Scarlet to use in the conservatory, and that no feet are too smelly to double as a biological weapon. 
"I just love the fact that this is the one sport that England always wins at," Nash says of toe wrestling, which appeared on the cover of the second edition of Eccentric Britain. "We get hammered at everything else." And by England, Nash also means "Nasty Nash." He told a reporter in 2009, "Every time I try to retire, I get bombarded by fans begging me to compete one more time. I keep going because it's the only sport I've ever been good at, and I love winning."