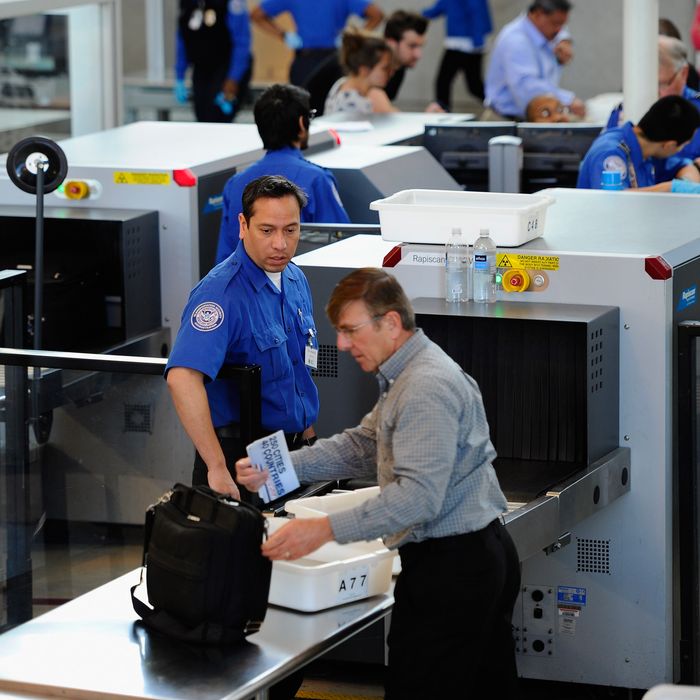 TSA agents screen passengers at LAX on May 2, 2011 in Los Angeles, California.
Photo: Kevork Djansezian/2011 Getty Images
The Transportation Security Administration's Instagram account is filled with images of confiscated guns, nunchucks, batarangs, and Klingon bat'leths, but despite what this spectacular feed would have you believe, the agency actually isn't that good at finding weapons. In a recent internal investigation, undercover agents were able to get weapons and fake bombs past airport screeners in 67 out of 70 cases — a 95 percent failure rate — according to an ABC News report released Monday morning. Details are scant, but the tests were reportedly conducted at dozens of the nation's busiest airports by Homeland Security "Red Team" personnel posing as passengers. In one case, an agent set off a metal detector, but TSA agents failed to detect the fake bomb taped to his back during the ensuing pat-down.
Though strapping an explosive to your back sounds less inventive than tucking a bomb in your shoe or your underwear, in the past the TSA has tried to claim that these breaches aren't as serious as they sound. Following a report that a bomb-carrying Red Team agent made it through Newark Airport in 2013, the TSA said in a blog post:
The goal of the Red Team is to build tests that push the boundaries of our people, processes, and technology. We know that the adversary innovates and we have to push ourselves to capacity in order to remain one step ahead. With that said, our testers often make these covert tests as difficult as possible. It's not like they're using a cartoonish bundle of dynamite with an alarm clock strapped to it. These items are extremely hard to spot.
The same year, then-TSA administrator John Pistole told Congress that since the Red Team knows bureau policies they can get past security in ways "not even the best terrorists would be able to do."
But this time, Homeland Security Secretary Jeh Johnson took swift action (or at least, keeping with the "security theater" theme, tried to make it look like he was taking swift action). DHS said that Johnson took action "immediately" after learning of the findings in the inspector general's report last week, and on Monday evening the secretary announced that Melvin Carraway, the TSA's acting administrator, has been reassigned, effective immediately. Johnson called on the Senate to confirm President Obama's nominee for TSA administrator, Coast Guard Vice Admiral Pete Neffenger, and in the meantime Acting Deputy Director Mark Hatfield will hold the position. Pistole retired in December and it took the Obama administration four months to find a nominee who may be able to make it through the Republican-controlled Senate.
Congress tangled with the TSA last month during a hearing titled "TSA: Are Airports Safe?" House Oversight Committee Chairman Jason Chaffetz kicked off the panel by complaining that acting administrator Melvin Carraway wouldn't attend because DHS "felt it was demeaning to have the acting director sit on the same panel as a private sector witness." A DHS official told the Fiscal Times that it does not participate in hearings with private-sector witnesses to avoid conflicts of interest. 
Had TSA officials decided to attend, they would have heard DHS Inspector General John Roth testify that his office has "identified vulnerabilities caused by human and technology based failures" in the TSA's procedures, and raise questions about whether the agency is using its $7 billion annual budget effectively.
Secretary Johnson said in a statement that while the findings of the latest inspector general's report are classified, he's directed the TSA to "immediately revise its standard operating procedures for screening to address the specific vulnerabilities identified by the Inspector General's testing." He ordered a number of other security improvements, including retraining TSA agents, testing screening equipment, and conducting more secret tests at checkpoints. "The numbers in these reports never look good out of context but they are a critical element in the continual evolution of our aviation security," Johnson said. "We take these findings very seriously in our continued effort to test, measure and enhance our capabilities and techniques as threats evolve."
The TSA should get plenty of practice in the coming months, since this is expected to be the busiest summer ever for U.S. air travel.