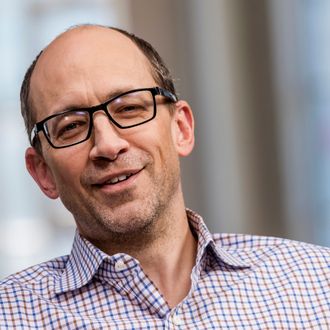 Photo: David Paul Morris/Bloomberg via Getty Images
Big day for people in the media stepping down: Twitter announced today that its CEO, Dick Costolo, will be leaving his post on July 1. Jack Dorsey, the Twitter co-founder who was the company's founding chief executive officer, will serve as interim CEO until Twitter hires a replacement, who could come from inside or outside the company. Costolo will remain on the board.
Twitter has grown accustomed to shuffling its upper-level management. Founded in 2006, Dorsey served as CEO until 2008, when fellow co-founder Ev Williams took over. Two years later, in 2010, Costolo usurped the role from Williams, who eventually moved on to start the blogging platform Medium while Dorsey started Square. Dorsey returned as an executive chairman in 2011, and has split his time between Twitter and Square since.
It's unclear whether this news had anything to do with the news Twitter announced moments before, which is that dudes can now DM you unlimited dickpics.