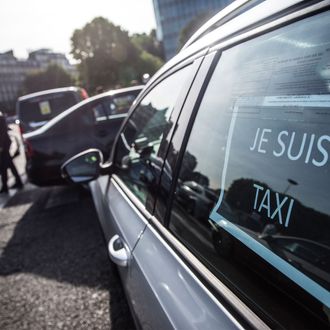 Photo: Balint Porneczi/Bloomberg via Getty Images/© 2015 Bloomberg Finance
France's professional cabbies, who staged a massive protest against Uber last week, aren't the only French people who disapprove of the American start-up. On Monday, the police arrested two executives — Uber France manager Thibaud Simphal and Uber's general manager of western Europe, Pierre-Dimitri Gore-Coty — for "illicit activity," the Associated Press reports.
The move came just as Interior Minister Bernard Cazeneuve announced that 200 police officers had been ordered to patrol the streets for UberPop drivers, whose services were banned by a French judge in January. (UberPop, which uses drivers who haven't obtained a French taxi license, has continued to operate in France despite the ban, with the company saying that it's awaiting the ruling of an appeals court.) In a statement acknowledging the arrests, Uber said, "We are happy to answer questions the authorities have about our service and look forward to resolving these issues." Meanwhile, French President François Hollande said that "UberPop should be dissolved and declared illegal." Good luck, guys.