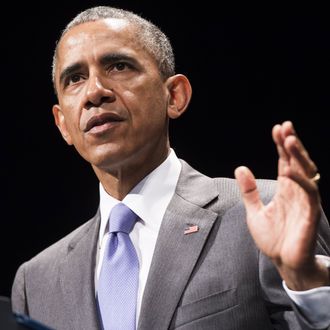 Photo: Saul Loeb/AFP/Getty Images
When the parents of Jim Foley and Steven Sotloff, and many other Americans taken by ISIS, were trying to rescue their children, the federal government warned them that there was one thing they could not do. If anyone paid a ransom to a terrorist organization, they could be prosecuted. 
Not that the families were ever going to raise the millions of dollars demanded, but it was a shocking stress to deal with on top of everything else. Some of the parents were even willing to court the courts if that meant seeing their children again, as Lawrence Wright shows in his massive and heartbreaking story in The New Yorker on how the families of five hostages tried to form a coalition of the willing to outmaneuver ISIS. 
John Foley, whose son was killed by ISIS last year, told Wright, "I'd rather be in prison myself and have Jimmy home." Nancy Curtis, the mother of Theo Padnos, who was released by ISIS last year, said, "I'm seventy-six years old. Let them put me in jail."
Wright also speaks to the families of Peter Kassig, beheaded last year, and Kayla Mueller, who reportedly was killed in an airstrike.
When the Foleys and the Sotloffs heard of their sons' deaths, it wasn't from the State Department or the FBI; they had to learn about it from the media. When their sons were alive, the families also felt like the government was taciturn when it came to details — except to remind the families that they would be prosecuted if any money switched hands.
In response to the many painful case studies that have been filed away in the past few years of the Islamic State's rise, President Obama plans to announce a new presidential directive and an executive order that will prevent federal authorities from threatening to prosecute the families of hostages at a time when their emotions are already frayed enough. 
The government has never prosecuted a family for negotiating a hostage release anyway, so the policy as previously understood was little more than bullying. The government does not plan to change its "no concessions" policy on hostages, but it will provide help for families wishing to negotiate with captors by themselves.
Many other countries do not have such a firm policy when it comes to hostage situations. Last year, the New York Times reported that Al Qaeda and its affiliates made at least $125 million from ransom revenue between 2008 and 2014. There is little evidence that a no-ransom policy results in fewer hostages. The stigma against negotiating with terrorists is still undoubtedly strong, however, given the national reaction to Bowe Bergdahl's return from captivity a year ago.
The five families profiled in The New Yorker did try to negotiate the release of hostages on their own with the help of a powerful person who probably wouldn't be the first to come to mind when you think of negotiations with ISIS — David Bradley, owner of the Atlantic Media Company. In 2011, he had helped figure out the release of freelancer Clare Gillis, who wrote a few pieces for The Atlantic, and Jim Foley — the capture that ended with his death was the second time he had been kidnapped. 
According to Politico, Bradley wrote an email to his staff this morning about why this story appeared in The New Yorker: "I decided it would be hard for our colleagues to author a story, in part, about me without a brilliant-red-flag of apparent conflict."
In Wright's story, the families also wished that there were one person they could talk to inside the government about hostage matters — the FBI, White House, and State Department often offered conflicting information, and were vague and often threatening when they actually did talk to the families. The White House plans to create a "fusion cell" — made up of the Pentagon, State Department, and FBI — to respond to those worries. 
Many in Congress — especially lawmakers who represent families who have dealt with hostage negotiations — think the government should go further and establish a "hostage czar." Senator Ben Cardin — who represents Elaine Weinstein, a Maryland resident whose husband, Warren, was accidentally killed in a drone strike earlier this year — and Senator John Cornyn introduced legislation that would create such a position on Tuesday; similar legislation had already been introduced in the House.
According to Wright, 31 Americans are currently being held hostage abroad, per the FBI; that number could be larger since the government is still mum about people being held by terrorists.